About the Book
---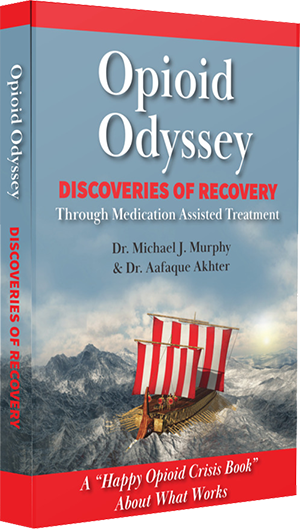 Few people in the United States or around the world have not been deeply and personally affected by the "opioid crisis."
But what, precisely, is this "opioid crisis?" For that matter, what is "drug addiction?" What, really, is the "opioid dependency" discussed by so many so-called medical experts? And who, exactly, are these "drug addicts" who suffer by the millions each year, and whose fate is tragically reported each day in the media?
Friends, family members, neighbors and colleagues continue to struggle to understand what is happening as the disastrous numbers roll in – numbers exemplifying the sad fate of people who until that moment we all believed were just like us. Parents sadly remember their loving, cheerful children, coaches recall mentoring excited athletes, teachers describe helping earnest adolescents focus on long-desired life goals; goals that now seem lost forever.
The opioid dependent person seemed to be held hostage by an uncompassionate dictator – an enslaving chemical that demanded unquestioning obedience. Loving caretakers witness a chemical that comes to own a unique human being who previously was the happy focus of much love and attention. Nothing, nothing at all, seems to matter as much as this substance that until then was a complete stranger.
How did this happen? How can it make sense? How did my daughter, my son, my brother or sister, my neighbor, my office-mate, my best friend – become a drug addict? What, if anything, could I have done? And now, after hard personal struggle to understand and even accept what has happened – what can I do?
As the pages of this book are turned and the journey finally completed, important and necessary steps will have been taken toward a shared, common awareness of the true nature of the OPIOID ODYSSEY. That healing truth, in time, will unite us all – opioid dependent patients, medical providers, friends and relatives, everyone – in the grand human story we all serve.
OPIOID ODYSSEY provides revealing real-life information about the surprising foundations of drug dependency as well as the dramatic and heartwarming stories of those who have followed it to the deepest depths – and then arose again to even greater heights. Recovery – long-term, stable recovery – from opioid addiction is possible, even probable. Treatment, if properly planned and delivered, has helped many return to loving families, to full participation in employment and relationships, and to stand proudly in their communities. The devil, of course, is in the details, and OPIOID ODYSSEY delivers those details in a package that gives hope and deep understanding to all who have felt perplexed, frustrated and even heartbroken by the strange opioid phenomenon.
---